Two thieves in Arlee are stealing fuel from school buses, and in the process impacting young school children in town.  
Louis Fiddler, captain for the Confederated Salish and Kootenai Tribal Police, said over the weekend, two people stole diesel from an Arlee Early Childhood Services school bus. 
In security footage, one person is wearing a gray sweatshirt, blue jeans and dark colored shoes. The other person is wearing blue jeans and what looks like a black sweatshirt with a red writing on the back.
"Where they parked the buses and where the camera is positioned you can't really tell who they are," Fiddler said. 
According to a Facebook post below, the fuel for the buses was suppose to take the kids on field trips to the pumpkin patch, Dairy Queen and McDonalds. The post was later removed.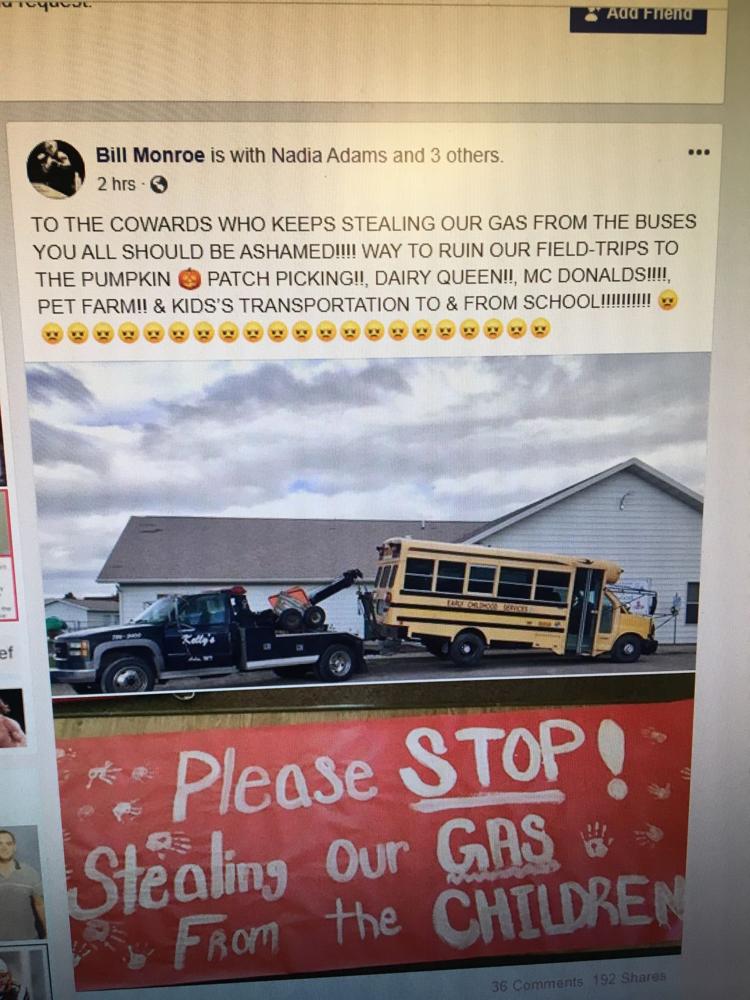 "A friend of mine works there and that's how I heard and I couldn't believe the kids are going to be without a bus to take to go to field trips," Arlee resident Jami Prins resident, said. 
Captain Fiddler said the gas tank to the bus was punctured and the gas cap was stolen. 
"This time it's a puncture in the gas tank. We've had them where they're taken it by opening the gas cap. They've got locking mechanism for the gas cap, so then they'll go in the fuel line and it's something that's happened a few times," Fiddler said. 
One gas station employee said the early childhood center is a priority in Arlee. 
"We need to stick together as a community and bring these people to justice," Jimmy Best said. 
Arlee Early Childhood Services turned down a request for comment. 
If you know the two individuals in the security footage, you are asked to call the Confederated Salish and Kootenai Tribal Police at 406-675-4700.