MISSOULA - Frustration has been building in Missoula over the construction of the Russell Street Bridge, and now some residents are fed up.    
One woman has taken it upon herself to start a petition that has already generated a lot of comments throughout the community.
Neighbors on River Road say this construction has already added a lot of time to their commute and all they want to do is make left-hand turns from River Road onto Russell.
On the corner of Russell street and River Road you can't turn left, you can't right, and absolutely no u-turns, making it pretty hard to navigate the intersection right now.
Some residents, like Caroline Hamblin, are voicing their frustrations. She started a petition on the Next-door app to see what her neighbors thought.
"I feel like people in this community are pretty fed up that we are not able to get home anymore, it used to be three minuet drive but now it takes 10 minutes or more with traffic," Hamblin said.
Hamblin's petition wants to put a light at the intersection so she and her neighbors could make a left turn again, but the Montana Department of Transportation has already made other plans.
The schematics for the intersection show a median is going to go right past River Road cutting off all left turns.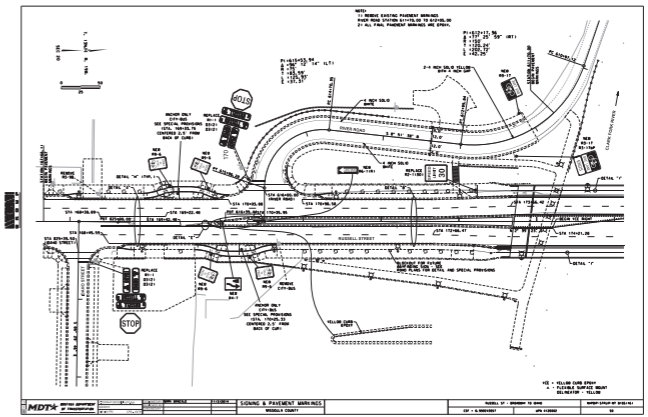 So when construction is finished River Road is going to be a "right turn in right turn out" type of intersection so if you come in the wrong direction you'll have to take the long way around.
The current detour goes down to Wyoming Street, then turns onto Curtis Street, and finally ends up River Road.
MDT District Administrator Bob Vosen said he hasn't heard about the petition until Tuesday but said there is a reason they put the median where it is.
"The safety improvements at this intersection are meant to decrease crashes and unsafe conditions. We're happy to meet with area residents to review project plans and the data that led to this configuration," Vosen said.
Hamblin recently moved into the neighborhood and said she wasn't around when MDT was taking in public comment and now she feels her voice isn't being heard.
"Yes, the bridge is going to be good for traffic but there a whole community over here that is blocked off," Hamblin said.
MDT also says once construction is complete the Russell Street bridge is going to be taller than it was before, obscuring visibility across the bridge so left hand turns could pose a danger.
If you want to voice your concerns you can call their project hotline 406-207-4484 or text "Russell" to 41411.