Missoula County Public Schools are taking the farm into the classroom. It's the first of its kind in the nation, and it's happening right in the Garden City. 
It starts on a 100-acre farm near Big Sky High School. 
"What we've done is brought the business to the school, and now we're able to give the kids those type of job skills right here at our school," MCPS Agriculture teacher Tom Andres said. 
That "school," or farm, is owned by MCPS. Livestock that are born at the MCPS agriculture center are being raised, fed and processed by BSHS students. 
The cows only leave the farm after they've been butchered on site. Teachers say it cuts down on the environmental impact. 
"Our carbon footprint is very small," Andres said. 
Early Tuesday morning, more than a dozen BSHS students were processing half of a cow, that will eventually be sold to the MCPS lunch program. 
More than 500 lbs of grass-fed ground beef raised by students was sold back to MCPS in August. This afternoon, that beef was served to students. 
Washington Middle School was one of 13 school cafeterias that served "walking tacos" to its students. A walking taco is a cut open dorito bag, ground seasoned beef, and shredded cheese.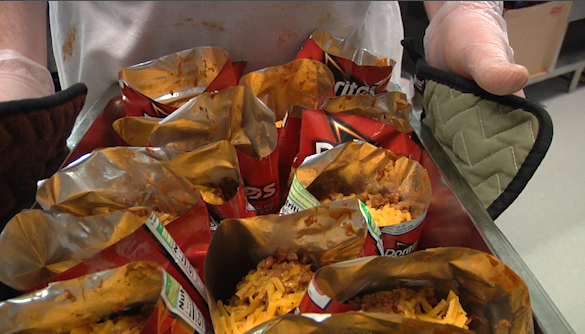 The students chowing down say they like to know where their food is coming from. 
"It's cool that they don't just put a bunch of weird stuff in it like some schools do," Michael Pocan a student at WMS said. 
Moving forward MCPS hopes to grow the farm to school program, and start feeding the district's kids more beef raised by its students. 
The Ag center meat processing lab are funded by the 2015 smart schools bond that Missoula voters passed in 2015.