Former U.S. Vice President Joe Biden is gearing up to visit Missoula for his book tour, and some are asking if a new Missoula County policy means his team will get a bill for the visit.  
Missoula County has a new policy to charge political campaigns for the cost of their visits, but the policy doesn't apply to every political event that comes through the area.
County staff say the policy specifically focuses on large, unexpected political campaign visits. If the cost to the county reaches $1,000.00 or more in unexpected costs, or $1,000.00 more than agreed-upon costs, the county will send a bill to the campaign.
The first drafts of the policy originally focused on various events that might cost the county. There were concerns about driving business out of the area, so the policy was narrowed to focus on political campaign visits.
Missoula County auditor David Wall says there is a key difference between Biden's book tour and large scale political campaigns.
"They're campaigns, they're for partisan politics. To ask the county taxpayers to foot the bill for what is essentially partisan politics is not really fair," Wall said. "I think this event, as far as my understanding, is simply a book tour."
Wall says Biden's visit is a scheduled event, and his team hasn't requested any additional security from the county. He says the policy will apply to all large-scale campaigns regardless of political affiliation.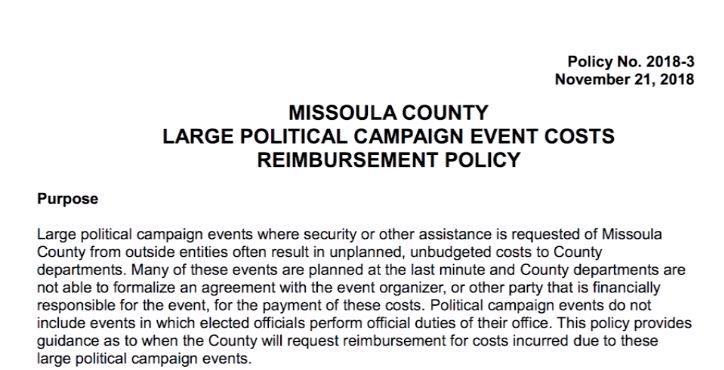 Biden is scheduled to visit the University of Montana on Monday, December 3. Doors will open at 7 p.m., and the event will begin at 7:30 p.m. Tickets can be purchased here.