MISSOULA - Three traffic signal boxes have been transformed from gray boxes to eye-catching art pieces, and the city will celebrate them along with the Van Buren Interchange mural at a special event on First Friday.
The City of Missoula Public Art Committee is dedicating four public art pieces with a special reception on Sept. 6 at the Dana Gallery.
This art dedication will feature three traffic signal boxes and the mural near the Van Buren Interchange.
The traffic signal box project was originally brought to the Missoula Public Art Committee by a local artist and has continued consistently for over a decade with one to two art calls per year.
The Missoula Public Art Committee has also been instrumental in starting the traffic signal box art project throughout the entire treasure state in partnership with the Montana Department of Transportation who own the boxes.
Now, over 50 of Missoula's 75 traffic signal boxes have become canvases for local artists to enhance the community, many drawn to the Garden City because of the artist community.
"The thing about Missoula is you come down here and unlike some other places, you go into the art scene and the reaction isn't like 'oh no, more competition,' it's 'oh you like to draw?! Cool, can I see?' which is awesome," said Brian Thomas, artist behind the Orange & Front St. traffic signal box.
All of the artists on the traffic signal box project are from Missoula County. An art call is put out into the community and from there artists can submit an idea or proposal and a selection committee made up of community members and officials make the final selection.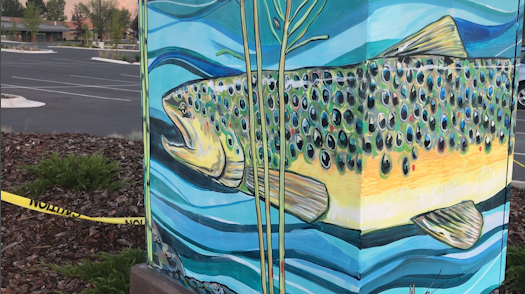 Each artist in the traffic signal box project receives $1500 for their work which is funded by a combination of grants and private funding.
"Being a part of it builds this great sense of community where people can say, 'hey I saw that guy on the street corner making that work of art' it really builds relationships and I think it's great from that standpoint," said Cameron Klise, artist behind the Orange & 5th St. traffic signal box.