The six-year-old student who was hit by a car after getting off a school bus is in "pretty stable" condition on Monday, according to a Meal Train post by a family-friend of the child. 
As six-year-old Jordana Hubble fights to recover from her injuries, which include a collapsed lung, support is pouring in from friends, family and anonymous donors. 
"It really just brings a tear to my eye. It's so humbling and it's gonna help the family so much," Katherine Sivanish a family-friend to the Hubble family said. 
Sivanish said when tragedy struck, the community stepped up. 
"All these people are just wanting to do everything they can to possibly help," Sivanish said. 
Last Tuesday, six-year-old student Jordana Hubble was getting off a school bus on highway 93, west of Whitefish, when a car driving 40mph did not stop and allegedly hit her. 
"It's a family's worst nightmare," Sivanish said. 
Jordana is recovering at Kalispell Regional Hospital where support from the community is pouring in.
"We have meals going to the hospital and to the house for Jordana's siblings and grandparents," Sivanish said. 
Sivanish organized a Meal Train, which schedules homemade meal giving. She said now the community support is going beyond a home cooked meal.
"She's a close family friend so we wanted to do something," Olney Fire Chief Jordan Carr said. 
After jordana was hit, Olney fire department and and Whitefish fire department organized "fill the boot" fundraiser," where anyone can throw cash in the boot to donate towards the family. So far, the fundraiser has raised more than $2,000 dollars in cash donations. And the money keeps coming.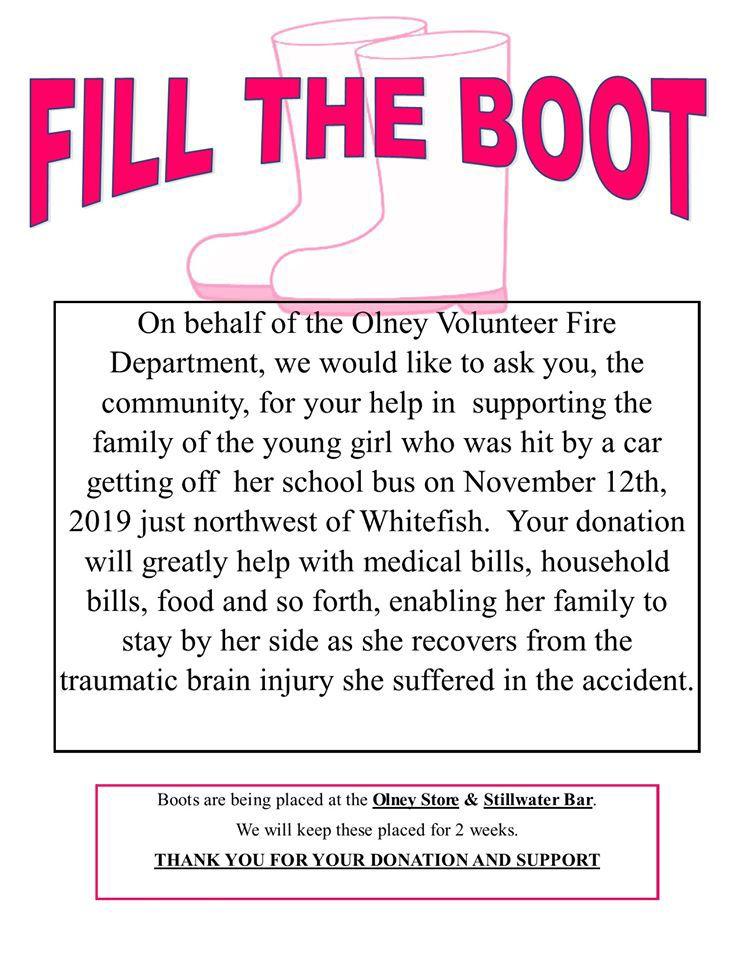 "I'm just really thankful for how many people came together to help out. It's amazing I think," Carr said. 
As Jordana fights to overcome her injuries, Sivanish said the Hubble family is grateful to Montanans for helping during this difficult time.
"Everyone is so touched by all of the outpouring of love," Sivanish said.