Cold Hard Cash band member arrested for domestic violence
MISSOULA - The drummer of a popular local cover band was arrested on Sunday for domestic violence.
Felipe "Fel" A. Torres is charged with partner-family member assault, according to Missoula Municipal Court records obtained by ABC FOX Montana.
Arrest records say the victim called 911 on Sunday, Jan. 27, after Torres allegedly showed up at her work and tried to drag her out of her friend's vehicle by the arm and neck. The victim's friend pepper-sprayed Torres to get him to leave.
The victim reported that she'd been dating Torres and tried to break up with him, but he wouldn't leave her alone. She showed officers that Torres had sent her threatening text messages.
She said she was scared because he'd hurt her before, records say. 
Officers tracked Torres down at his residence and arrested him. He was released from jail on Monday, Jan. 28 and booked into jail again on Wednesday, Jan. 30. His bond is listed at $10,000.
Court records say he has no prior convictions for domestic violence. First-time partner-family member assault is a misdemeanor.
An anonymous post circulating on social media [click for document] accuses Torres of multiple previous incidents of domestic violence, and says that many of his victims fear that he might kill them. 
The post urges people to boycott Cold Hard Cash and demand that venues stop booking the band.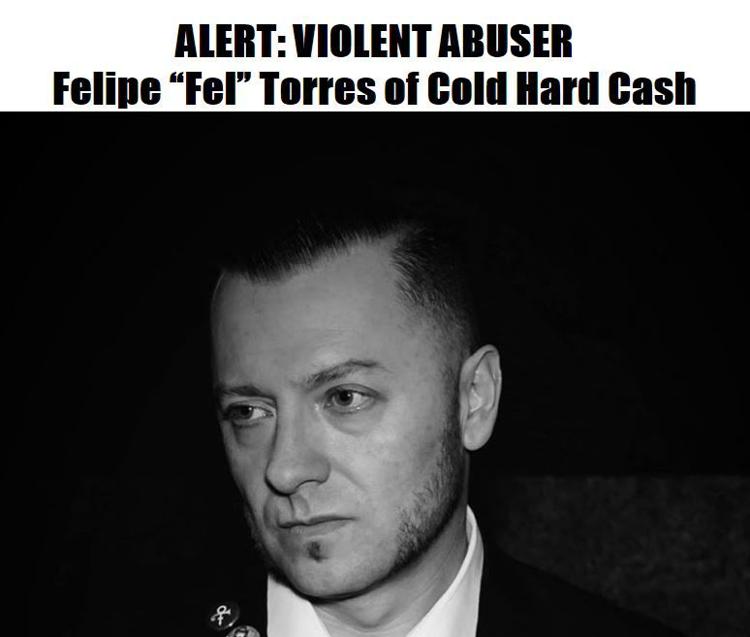 The band tours regularly and appeared on "The Late Show with David Letterman" in 2008, according to the Missoulian.
The band's Facebook page currently lists Torres as the drummer and general manager.