CLINTON - A family is left without a home after a fire ripped through their mobile home.
Haley Morton lives in the trailer with her two kids and her boyfriend. Shortly after she got out of the hospital, she talked about what it was like to wake up in a house on fire. 
"It went so fast and by the time we got out and to the fence and over the fence, half of the house was already gone," Morton said.
Melted toys and chard appliances are all that is left of Morton's home. She walks through the ashes to point out where the kitchen used to be and where the fire started.
She notes just how close her family was to the flames.
"This is my kids' bedroom, where they slept," Morton said pointing to two burnt twin beds with part of the roof on top of them.
The fire started around 3 a.m. Tuesday morning, and it wasn't an alarm that woke her up.
"I woke up to the smoke and instantly I knew what it was but I didn't know what to do, it was just instant panic and yelling saying 'fire!' and 'get out," Morton said.
In the trailer at the time it was Morton, her two kids, her boyfriend and a friend. Both of the kids made it out unharmed but Morton was seriously burned, and one of her dogs didn't make it out.
"I received second degree burns on my back and burns on my hands," Morton said.
But she wasn't even touched by the fire. The radiant heat was enough to melt a trash can on the curb and the bumper of a car parked next door.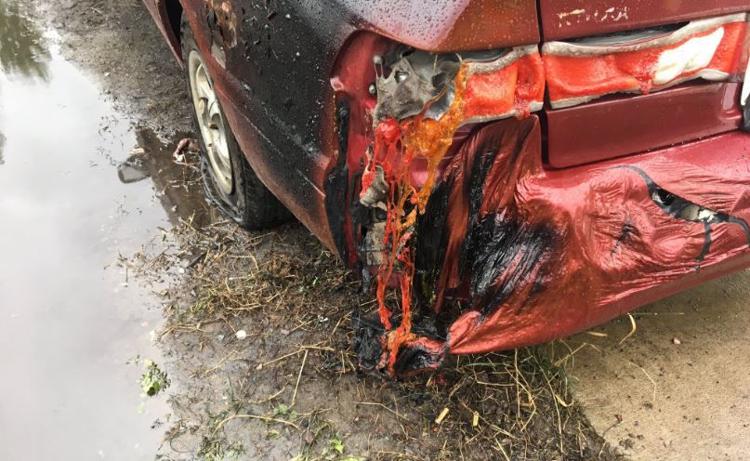 "By the time the fire department showed up it was completely gone," Morton said.
Looking at the space where her bed used to be, Morton is reminded of what she still has.
"I'm lucky both of my kids are okay and I'm blessed they still have a mother," Morton said, "I'm just blessed to have such an amazing family and a support system that I sometimes forget that I have."
Morton's friends and family have set up a go-fund-me page to help replace what she lost. The grocery store in Clinton is also raising money for the family.
the Clinton Fire department is still investigating the cause of the fire.