UPDATE Thu 5:25 PM - Glacier National Park officials say they're scaling back search efforts for a man who went missing early last week. 
Efforts are now in a "limited continuous mode," according to an official GNP release. This means that searches won't happen everyday, but will continue in a "reduced capacity." with patrols. 
Mark Sinclair, the man in question, is still considered a missing person, according to GNP. Rangers say the investigation into Sinclair's disappearance is still ongoing, and that they'll follow up on any new clues or information they find. 
GNP officials said there is the possibility that Sinclair might have traveled away from Logan Pass, given the number of paths in the one million acre sized park. 
In the meantime, missing person posters with Sinclair's image and description will be posted in the park throughout the summer season. 
"We continue to ask the public to think back to their visits to the park last week. Additional sightings or the discovery of Mark's belongings could help investigators identify new search tactics," said Search Team Commander Ed Visnovske. "The park deeply appreciates the efforts of our county and federal partners - we could not have covered such a significant area or conducted such an in-depth search without that support." 
---
WEST GLACIER - Glacier National Park officials say a man who disappeared on July 8 is still missing, and the trail he's believed to have hiked on is now closed due to aggressive grizzly activity.
From the park's release: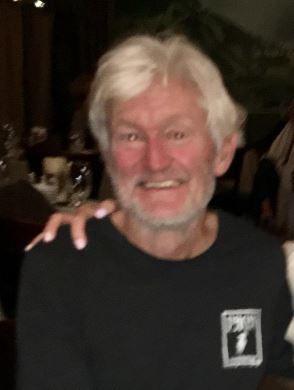 Search efforts have continued over the last week for missing person Mark Sinclair, who was last seen on Monday, July 8. 
The last confirmed sighting of Sinclair was on the Highline Trail by a visitor late Monday afternoon, July 8, between Haystack Butte and Granite Park Chalet. He was observed earlier that afternoon by Logan Pass Visitor Center staff as he left an unsecured vehicle, keys, and dog in the Logan Pass Parking Lot and headed towards the Highline Trail.  
Ground and air crews continue to search the Highline Trail and Granite Park Chalet vicinity, in addition to other drainages and trails near the area. Crews have encountered steep, treacherous terrain, high winds, rain, and bears, among other hazards that characterize Glacier's high country. Gray rock, shaded areas, and dense vegetation have increased the difficulty of pinpointing Sinclair's whereabouts. 
In addition, this weekend the park closed the Highline Trail from Logan Pass to Granite Park Chalet because a sub-adult grizzly bear was charging visitors and remaining in close proximity to search teams for extended periods of time. A visitor deployed bear spray. Similar to other bear-related trail closures, the park will conduct trail patrols until a "clear" patrol free of bears is achieved for at least two days before reopening to the public. The Highline Trail poses unique challenges when bears frequent the area because there is often very little space for hikers to move aside if bears come through. Hikers can access Granite Park Chalet from the Loop or the Swiftcurrent Pass Trail from the Many Glacier Valley. Visitors can check the park's trail status page or current conditions page for trail updates.  
Visitors hiking in the general Logan Pass and Granite Park area may hear search crew whistles, and will see helicopters inserting ground search crews and conducting aerial surveillance.  
Search managers are using helicopters, cameras, infrared flights, and drones to search areas difficult or impossible for ground crews to reach. 
Search team investigators have received an abundance of information about Sinclair from the public. Investigators have pursued every lead but nothing has been discovered to reveal his whereabouts. In the absence of any actionable clues over the past eight days, search managers expect to suspend large scale ground search efforts later this week unless something substantive is discovered. 
Investigations into Sinclair's activities, personal connections, and information received via the tip line (406-888-7077) will continue. The public is urged to continue to report information that may lead to Sinclair's whereabouts, including sightings and any discovery of his belongings.