UPDATE - Fish, Wildlife and Parks officials successfully captured and relocated a moose and cow that were found grazing in a downtown alleyway on Friday morning.
From FWP:
"The cow and calf moose that had been spotted in Missoula parks and neighborhoods over the past week are now back in a more remote area west of Missoula. The pair had made it downtown this morning, and FWP, along with amazing help from the Missoula City Police Department, were able to rope off a few downtown city blocks and safely dart and tranquilize the cow and calf. FWP then moved the pair to much more moose friendly habitat . Although you can see a barn in the background of this video, the duo are on their way to open, forested land. Thanks to Missoula City Police for their help and to the community for being aware and careful around these wild animals that share our spaces."
FWP released video of the successful release.
---
MISSOULA - Police have closed off a block of Pine Street after spotting a moose and calf grazing outside an office building.
Police sent a reverse 911 message to people within a half-mile radius of the area where the moose was spotted. 
The moose was first spotted in the 200 block of East Pine Street near the Peak Health and Wellness Center downtown. 
Montana Fish, Wildlife and Parks (FWP) officials say the reports of moose in downtown Missoula came in Thursday night. They believe these moose are the same moose that forced trail closures in Greenough Park earlier this week.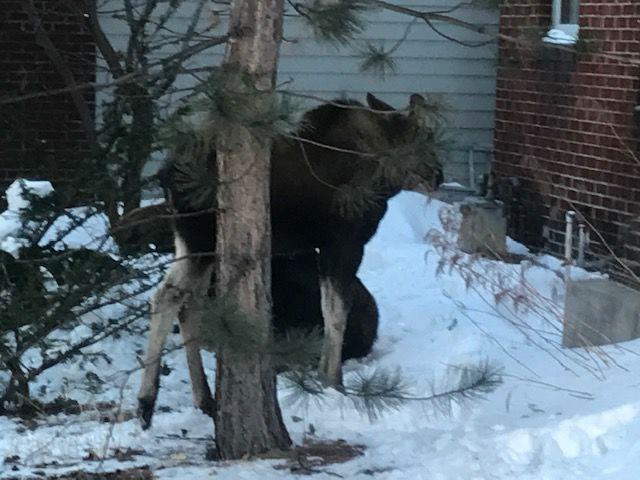 Officials with Montana Fish, Wildlife and Parks have brought in a horse trailer and are working to relocate the moose and calf. Officials tranquilized the mother moose and calf to safely load them into a horse trailer.