HELENA – A tweet is going viral and it's talking about the cities in the great Treasure State, but in that tweet, it sort of hints to the Capital City as being a tad sleepy.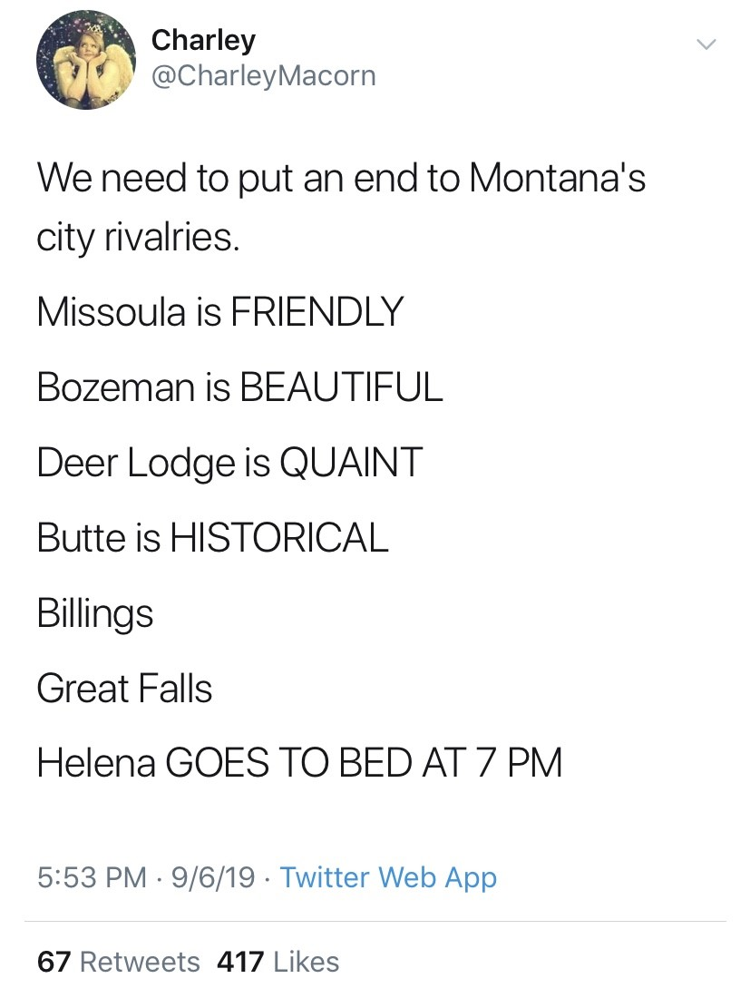 The tweet describes things about each city. Saying Missoula has friendly people, Bozeman is beautiful, and Butte is historical, but it claims Helena shuts down at 7 p.m. and residents in the Capital City say that's not their bedtime.  
"It's a lie! The weekends are always lively," says Braden Hallock a Helena Resident who stays up past 7 p.m. "I can't tell you about the college kids but I'm always out here skating and grinding well past 7 p.m. There is always bands and shows playing, so I don't know what kind of information she was digging up but it's inaccurate."   
Now the Capital Tours might stop at 5 p.m. but the city definitely has a nightlife and there are several things that you can do in the Capital City besides pass legislation. You can ride the Last Chance Tour Train Trolley, there's only about a week left to do that. Listen to jazz music this coming Tuesday at On Broadway from 6 to 9 p.m. or you can sing karaoke at one of several bars that usually starts about 9 p.m. 
We're not saying Bozeman isn't beautiful and that Butte isn't historical but we're definitely saying Helena is where the party is at after 7 p.m. If you'd like to find out more information about what to do in the Capital City past 7 p.m. you can click here.