It's a little place with big taste in Great Falls. Roadhouse Diner makes what people say are the freshest burgers around, and they have the awards to prove it. 
Walk in and you'll be greeted with a big hello by servers, you can hear burgers sizzling, fires frying, and people chatting. 
The diner has won numerous awards - just recently, they were named one of the Top 25 diners in America by Travel + Leisure. They've also competed to win on Guy's Grocery Games on the Food Network.
Just three years ago, this place wasn't even on the map.
"I had been a stay-at-home mom as well an emergency room nurse, but this was my husband's dream really," said co-owner and founder Tara Beam.
"We were just at that right point in life. This was a great location, everything just happened all at the right moment that we could focus on it and yeah, kind of live the dream," said Jason Beam.
Everything wasn't always good for the Beams. They struggled early on, making mistakes, but eventually found their footing and their customers are thankful they did.
"This is the only place you come if you want a burger," said Maxine Duckett. "We've been here for their breakfast too. You want big meals, good price where you are waddling out, this is the place to come."
"We love the food here. It's worth the wait. We have a favorite burger it's the PB and J, so usually when we come that's what we get," said Amber Plant.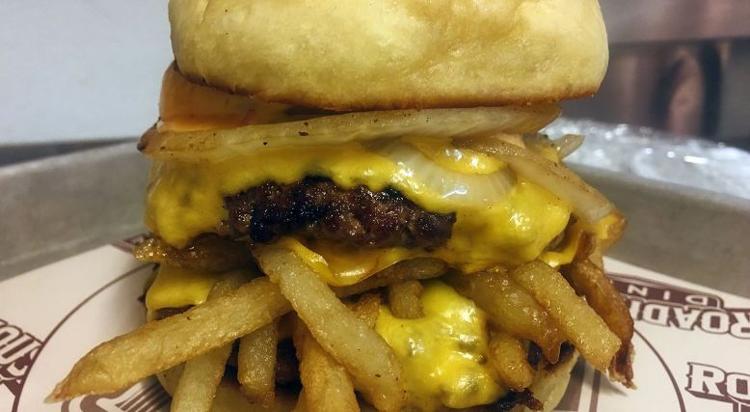 Their crazy burgers not only landed Tara a winning spot on Guy's Grocery Games on the Food Network, but they also keep her customers coming back for more.  
"We love having local repeat customers, we have people who eat here 3 or 4 times a week, its very flattering," said Jason Beam.
"I've eaten all over the country and I'll tell you this is one of the best of the best," said Jim Duckett.
For Tara, she says it's the customers who make it worthwhile for her family to own their own business.
"I'm very proud of our community, our customers, because I'm very grateful," she said. "I know that this wouldn't be as successful if I don't have all of them and all of them, they are the Roadhouse family."
After trying their burgers, it's easy to see why this little place with the big taste, has won so many awards. That's why it's this week's Montana Treasure.