Monday's Pearl Jam concert in Missoula marked a homecoming for the rock band's bassist. Jeff Ament is from Big Sandy, Montana, and is a part-time Missoula resident. 
As if being a rock star isn't enough, Ament is also helping to improve the lives of Montana's youth one ollie-- pop shoveit-- and kickflip at a time.      
Pearl Jam is one of the key bands of the 1990s grunge movement. 
Growing up in the small town of Big Sandy, population 700, Ament says music helped formed his identity. That... and skateboarding.
"Skateboarding can be a creative and artistic outlet and a physical outlet," he said.
We caught up with Ament in April, cruising at a skatepark in Stevensville-- one that he helped create.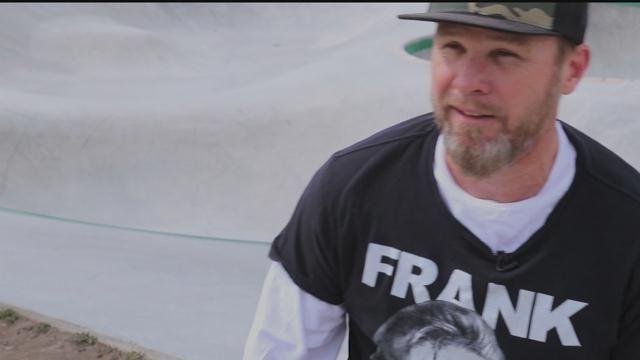 "About 10 years ago, I decided to take a chunk out of the money that I make from the band and put it into things that help young people," he said.
Since 2006, Ament has partnered with local organizations, parks departments and local municipalities to bring world-class skateparks to communities across Montana. 
It's all in an effort to give these boarders, shredders and ripsters a positive place to go, whether it's for exercise or for escape.  
"You're trying to figure things out. You're trying to find your identity, and if you don't fit into the team sports zone, or you don't fit into the zone at home, or whatever... Hopefully, it's just helped those kids have an outlet," Ament said. 
And it has. From Stevensville to St. Ignatius. From Big Sandy to Browning.  The number of skateparks around Montana is high-flying. 
From one in 1979 to almost 20 today. 
 .
Andrew Rush
"The skate park in St. Ignatius is basically like my 2nd home," said young skater Andrew Rush. 
"It gets a lot of my wiggles out," said Keegan Croft another young shredder.  
Ament's next big skatepark project? Circle 13 in Hamilton, which is expected to open in September. Ament's activism and philanthropic efforts don't stop there. He has recently been a voice for youth homes, working to get the thousands of Montana children in foster care placed into safe and loving homes. He also works with rock to vote, encouraging people to get out and vote.