The average American family spends about $700 every year on back-to-school supplies. The biggest chunk of that goes to clothing and shoes.
The National Retail Federation reports American families will spend about $360 apiece this year on back to school clothes and shoes.
Jan Turbak had been bringing that price tag a little more in reach for families in Missoula for the last 30 years. She and her husband started the Gary Turbak Back to School Clothing Drive at St. Paul Lutheran Church in Missoula in 1987.
That first year they had just $1200 and dressed about 80 kids.
"The little boy came out of the dressing room and he was rubbing his jeans and he looked up at Gary and he said, 'Mister, I've never had new jeans before,'" Jan said remembering their first few years of the drive.
Gary passed away in 2004 after a battle with cancer, but Jan soldiers on, bringing  joy to hundreds of kids every year.
"It's just so heartwarming. They are so excited," she said.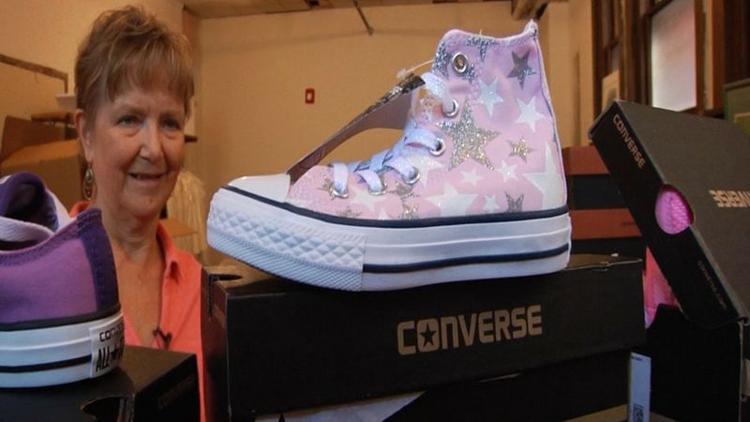 Last year her budget was closer to $10,000  and she dressed about 300 kids. Every kid gets a new shirt, a pair of pants, a bag of socks, a fresh pack underwear,  and a brand new pair of shoes. Shoes are their biggest expense, so a donation from Converse had them very excited this year.
"I mean that's thousands of dollars' worth of shoes," Jan said digging through piles of donated Chuck Taylors.
With a donation like that, Jan said they may be able to serve more children or give each child more clothes this year.
Jan's knows Gary is watching down on her and she thinks he'd approve.
"Oh he'd be thrilled. We never thought it'd go this far," she said.
TheGary Turbak Memorial Back to School Clothing Drive takes place at St. Paul Lutheran Church in Missoula in mid-August. Donations can be made to St. Paul with a note on the memo that the donation is for the back to school drive.
Anyone wanting to shop at the event needs a referral from a social service agency like WIC, WORD or the Food Bank.