In an ever-increasing wildfire season, fire lookouts relay critical information to fire managers the moment lightning strikes or smoke rises.
Angela Marshall takes you to the heart of Montana's lightning country to introduce you to one fire lookout and this week's Montana Treasure.
******
At 7,300 feet, perched on the catwalk of the Stark Mountain Lookout in the Ninemile Ranger District, Tom Wegner scans the horizon.
This fire lookout is on the lookout for... what else?
Fires.
"It's part of the life up here," he said.
From up here, Tom can see for miles, more than 25 miles in each direction with views of the Ninemile Valley to the north and the Clark Fork River from Missoula through Alberton Gorge to the south.
He's always keeping a watchful eye day or night.
"I'm going to use that opportunity to look for little spot fires."
That's Wegner's job...
"Do some more housekeeping chores. Looking for smoke."
Simple as it sounds...
"Have lunch. Keeping looking for smoke."
Spot a fire...
Calculate its location...
"Transferring that 2-dimensional depiction of the landscape to that 3-dimensional reality that you live in and deal with," Wegner added.
... And radio it back to the Ninemile Ranger Station.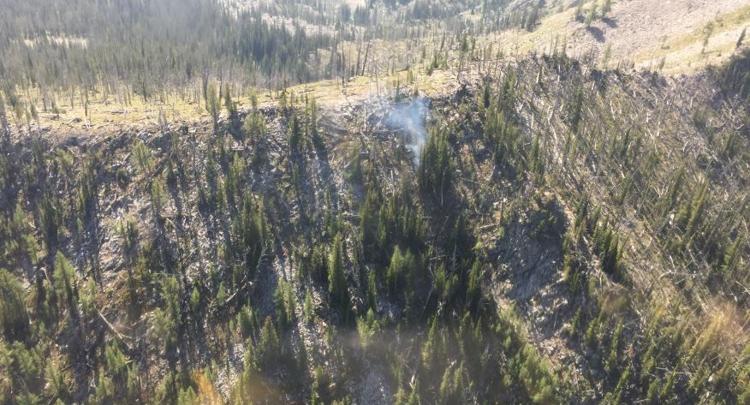 He also tracks of each and every lightning strike.
"Did that lightning hit a tree and get into a punky chunk, and it's lingering around inside there and it might not show up for five hours, five days? It might not show up for as much as 14 days. That's the advantage of the 24 hour surveillance that this type of platform provides."
Twenty-four hours, every day.
During fire season, Tom mans the lookout 13 out of every 14 days.
"Tom tells me... the job of a fire lookout doesn't provide a lot of free time. But some have been able to find a moment to paint or play an instrument. For Tom, it's filling in a crossword puzzle."
In-between filling in a word, he, yes, searches out smoke.
He does make the occasional run to Missoula for supplies or chats with a sporadic lookout visitor.
Mostly, he's alone but finds comfort in his surroundings.
"You get to know it in a way that no one else can. And there is, I think, a connection on the level of the soul."
And it's this solitude that always keeps Tom focused.
"You play a role in the life and safety of folks who are working in an environment, at a job that's got a lot of inherent risk... Which is probably the most important part of a lookout. That at the end of the day, the end of the fire season, all those folks go back home to their families and loved ones."
The man manning the fire lookout, this week's Montana Treasure.
******
This is Tom's seventh season working as a fire lookout for the Ninemile Ranger District.
The woman who preceded him, Virginia Vincent, staffed the Stark Mountain Lookout for more than 30-years.
If you know someone or something you think is a Montana Treasure, let us know. 
Send us a Facebook message, email us at: newsroom@abcfoxmontana.com, or give us a call at (406) 721-NEWS. Then look for their story every Monday on ABC FOX Montana.