GREAT FALLS- Governor Steve Bullock signed the Joseph Dunn Memorial Highway Bill into law back in 2015.
Today, the Cascade County Sheriff's Office is still remembering their fallen brother.
"I think everybody is dealing with today in their own individual way," says Sheriff Slaughter.
For many, today is a day of remembrance; remembering the friend, father, and officer who faithfully served the community of Cascade County.
"The important thing is, I think everybody's aware of what today is and what today means to everybody," explains Slaughter.
For the deputies at the Cascade County Sheriff's Department, business is going on as usual.
However, don't let that fool you.
For many of the officers, it's nothing more than just a brave face.
"You know, law enforcement officers are very, very resilient and we are definitely tough minded and therefore; dealing with some of the tragedies and things that we deal with as law enforcement officers, often times, we get very, very good at hiding our emotions at times like this," explains Slaughter.
The same goes for Dunn's family, who sent this statement to Sheriff Slaughter.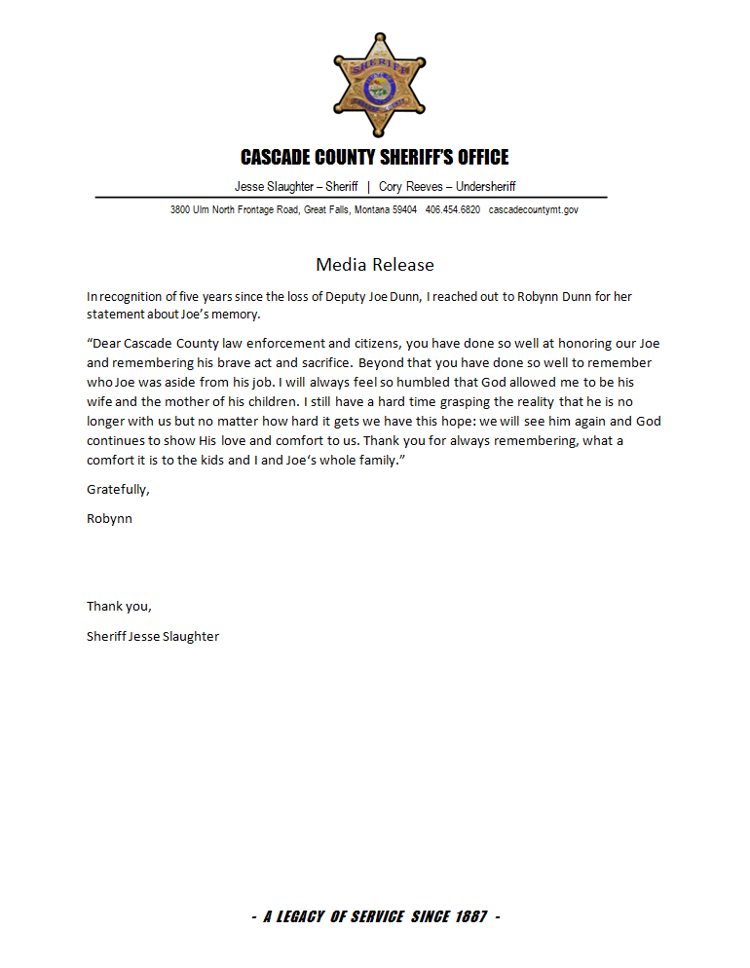 "I don't think I can say anything more articulate than that. Her extreme grace and honor, that not only does she show her husband Joe, but what she shows this great community; and I think that pretty much sums it up," says Slaughter.
Sheriff Slaughter said one of the best ways the community can help is by keeping Joe's family and friends in your thoughts and prayers during this time.