GREAT FALLS – The America Red Cross is hosting a blood drive in June in honor of a boy who's been facing the fight of his life for the past two years.
TroyStrong will take place at Central Catholic High on Thursday June 27, from 10:00 AM to 3:00 PM. It's named after Troy Ross, the son of Bison Assistant Football Coach Wes Ross. Troy has pulmonary capillaritis, a condition that leads to his immune system attacking his lungs, as if they were a virus.   
The drive is one of several taking place across the Treasure State, as the Ross family strive to raise awareness about the importance of blood donation.
Governor Steve Bullock sent them a note Monday, congratulating and thanking the family for their efforts. In the note, Bullock writes,"Young Troy's fight has inspired many and has shed light on how fellow Montanans can truly help others and save lives by donating blood. Thank you for making Montana a better place!"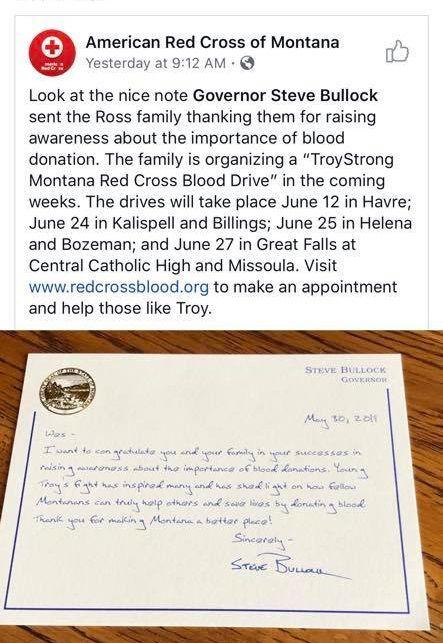 Other drives include those on the following dates and locations:
June 12 in Havre
June 24 in Kalispel and Billings
June 25 in Helena and Bozeman
If you'd like to make an appointment, you can call (406) 868-0231 or signup online on the official American Red Cross website.