BOZEMAN - After Tuesday's rescue of a father and son stranded in extreme conditions, the work of our community's heroes, like Search and Rescue, is at the forefront of many minds in Gallatin County.
But there are certain scenarios where a human's skills just aren't enough to get the job done in the time, area, or conditions rescuers can be faced with. That's where man's best friend comes in.
Search dogs have been used by the Gallatin County Sheriff's Office for 25 years, first starting in 1994.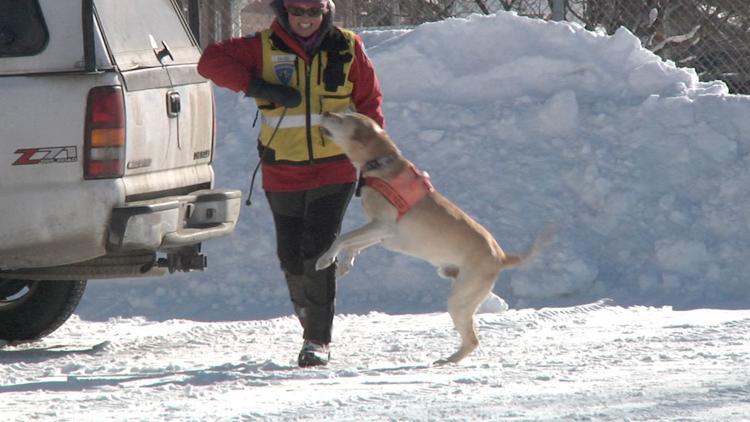 "Dogs are incredible," says Alissa Hitchcock, a member of the search and rescue team and the owner of a search and rescue black lab. "If you think about the differences between a person and a dog, they have all the things that we don't have. They're kind of just like a superpower that we can use and train with so that we can find things that we wouldn't have otherwise if we were just people on the ground."
The K-9 units start training to be search and rescue dogs when they're just eight weeks old. Each dog is adopted, raised, trained, and looked after by their search and rescue volunteer.
The dogs train weekly, covering scenarios like tracking, avalanches, and alerting.
While they may not speak the same language, communication between owner and search dog is key. Dogs can alert their trainers by barking, laying down, jumping, and more. Trainers can communicate with dogs by using hand motions, calling commands, and treating the dogs with special toys after the dog completes their mission.
Search and rescue volunteers say a successful assignment is about working together, and that includes the furriest members of their team.
"For us, search and rescue's pretty serious," says Hitchcock. "We love what we do, but we get out there and we have to be very disciplined and very in control to get things done."
But for the dogs, it's a game. And what makes these animals so effective is their enthusiasm to play the game.
As Hitchcock explains it: "The dogs get out there and it's a huge game for them to figure out the problem, locate the person, tell us about it, and then they get their toy, which is a big reward and a big party at the end. So when they find that person, we just have a ton of fun, which is the best part of their day."
The search and rescue volunteers also want to thank their friends, family, and the community for the continued support that allows them to save lives.