An organization of Montana's rabbis published an open letter to Sen. Steve Daines Wednesday accusing him of promoting bigotry and hatred. 
The letter printed in the Missoula Current is referencing a tweet from earlier this week in which Sen. Daines showed his support for President Trump's remarks that some minority congresswomen should "go back" to where they came from. 
Daines tweeted that he stands with President Trump.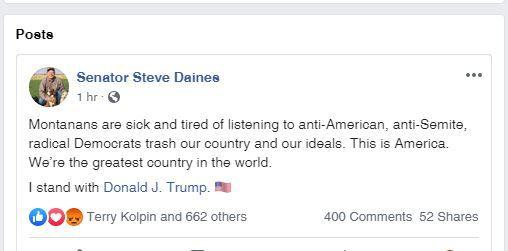 Daines' tweet also accused one of the congresswomen of being antisemitic. In response, the group of rabbis wrote:
"Collectively, as Montana's rabbis, we are the experts on antisemitism in Montana; we have studied it, lived it,  and know it when we see it.  We refuse to allow the real threat of antisemitism to be weaponized and exploited by those who themselves share a large part of the responsibility for the rise of white nationalist and antisemitic violence in this country. Accusing these representatives of antisemitism is no justification for telling them "to go back to where they came from" or inciting violence against them."
The group closes with an invitation for Daines to meet with the group of rabbis "so that he can learn more about the dangers of antisemitism and how his words do not combat antisemitism as much as they promote white supremacy and hatred."
Julia Doyle, a spokeswoman from Senator Daines office issued the following statement in response: "Steve welcomes the feedback of all Montanans. Steve is a strong supporter of Israel and the Jewish people. And as you saw in his recent tweet, he believes the anti-Semitic rhetoric from radical Democratic lawmakers is astounding."