BOZEMAN- Seven-year-old Dax is having his dreams become reality after meeting his bone marrow donor.  
The community is stepping up to give him even more.
Dax Schieffer has a rare bone marrow disorder, he has beaten his rare bone disorder due to a life-saving transplant.
Now on the mend and living life like any normal seven-year-old Dax is looking to the future, with help from the Museum of the Rockies.
Dax has become his dream, that dream is to be a tour guide at the museum.
"There was a time where we didn't even know if Dax would be able to walk," Chantel Schieffer Dax's mom said, "here today when he's giving his first tour of the Museum of the Rockies, we were trying hard to keep up with him, he moves so fast and he's kind of just unstoppable right now."
When Dax met with his donor, Jennifer, they came to the museum to see Big Mike, Montanas T. Rex.
When the museum heard that it was his dream it became theirs.
Dax was given his own name tag his own uniform and a membership to the museum to come hang out whenever he has free time. 
The community is stepping up to take care of one of its own helping Dax put the terrible memories of his illness in the rearview mirror with many positive memories to come down the road. 
The museum tells me the reason they're able to do this is because of generous donations from the public, The Time in a Bottle auction is coming up that money supports giving experiences like this to kids in our community.
Dax also got to meet the oldest tour guide, Maury Irvine, the two shared a moment tougher and Irvine gave Dax books so he can start his tour guide training.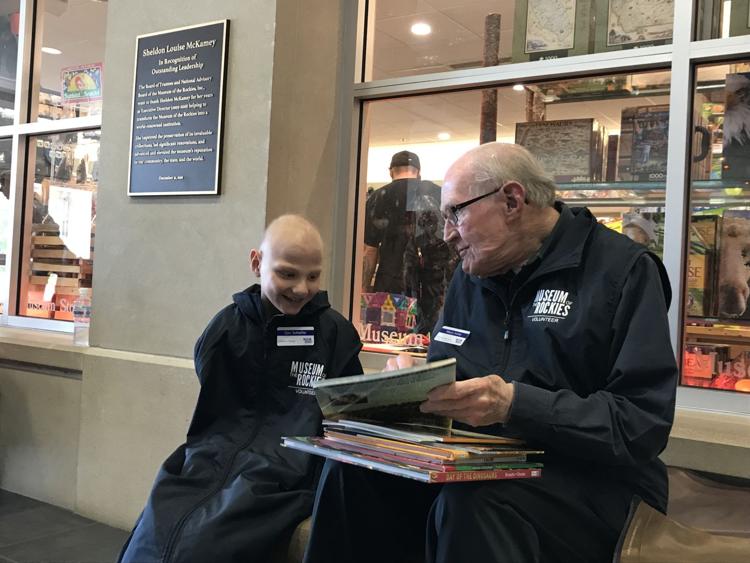 He even got books to start his tour guide knowledge from the oldest living tour guide, the oldest and youngest got to meet yesterday. pic.twitter.com/8ijA4EKOAt

— Bradley Warren (@bradmwarren) July 9, 2019