LIVINGSTON, Mont. - A two-year-old hound dog shot in Hardin a few weeks is making a full recovery - and ready for a second chance at life after being put up for adoption.
"Amos is very curious and sweet and food-motivated and he's just a lover," Stafford Animal Shelter's Animal Care Supervisor, Sara Shier. "Like, he's just gonna be a really great dog for someone."
Amos, about two years old and full of energy, has called the Stafford Animal Shelter northeast of Livingston his home for about two weeks. You wouldn't know it by watching him sniff around the yard, dig around the mulch, or jump up for treats, but the little hound has been through a lot in his short life.
With stitches in his neck and patches of fur shaved off of his shoulder, Amos still has the scars left over from the emergency surgery to save his life after he was shot in Hardin last year.
"They found him, he had been shot through the shoulder and out through his throat. It came in the shoulder, which isn't too bad... but the exit wound is pretty rough," Shier explains.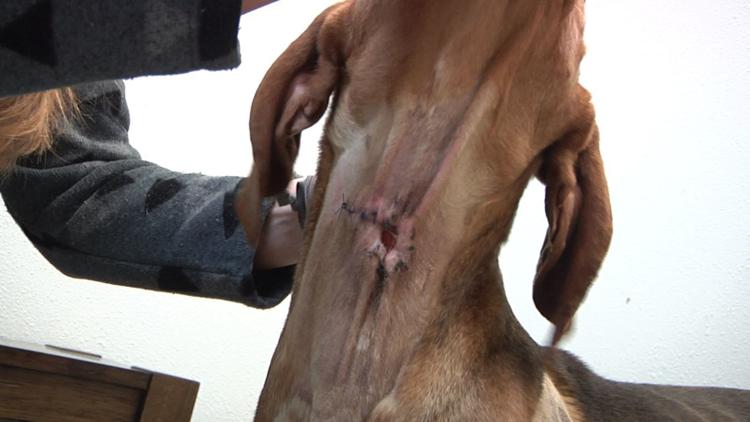 Amos is also pretty severely underweight, but nowhere near the point he was at when arriving at the shelter.
"He was extremely thin, so he'd been on hard times," Shier says. "And you know, I don't know if he couldn't eat well because of the wound or if he just hadn't been eating well prior to that." 
Shier says situations like Amos', where dogs are found shot or mistreated, aren't uncommon. And while those stories may be heartbreaking for her as an animal care professional, she can see the light at the end of the tunnel.
"We always like to take away from it that, you know, they're just so resilient and every dog that comes in here to us with problems gets helped. And then they end up finding great homes and it ends up being a happy story."
While a few people have taken a liking to Amos, even filling out adoption paperwork for the pup, he hasn't been able to secure his forever home just yet.
"He holds no grudges," Shier says, laughing. "He's just ready to go home."
Amos will have the stitches on his neck taken out in about a week, and he'll just need a few more doctor checkups in the weeks to come before he's as good as new. Stafford Animal Shelter is able to connect anyone adopting Amos with vet clinics in Livingston that have free first-time visits.
In the meantime, Amos already has the energy of a dog that's been through a lot less.
"He's just a great example of how amazing dogs are," Shier says. "You know, he's just happy to be here and feeling better and he's just waiting for his perfect home."
Shier thinks Amos would do well with an owner or family who can handle a lot of energy or has a large enough yard for him to run around in. She adds that Amos is also great with kids.