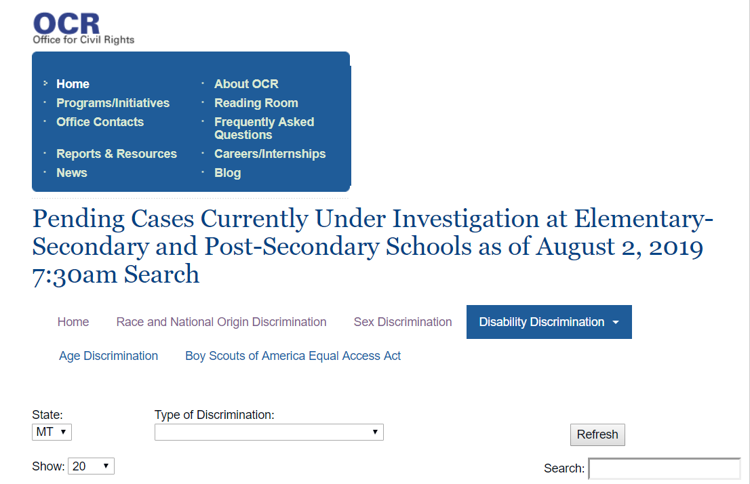 The Department of Education is releasing a list of complaints against school districts across the country, and we're now learning several Montana schools are on that list, specifically with regards to website accessibility. According to the Office of Public Instruction, complaints about websites have been going on for years, but the number of complaints increased significantly in 2018, when a simple rule change forced the Office of Civil Rights to recognize all complaints and not just mark them as frivolous
Now, dozens of schools fall on the list, accused of failing to accommodate people with disabilities trying to use their websites.
Tabatha Soliz, Teacher of Students who are Visually Impaired at the Montana School for the Deaf and Blind, is totally blind and has been since birth. She says website accessibility can be very frustrating.
"It can take me twice as long to do something, sometimes longer if I'm trying to find something on a website that I need that's not labeled, and it's very frustrating because it means I can't do what I need to do."
For people who are visually impaired like Tabatha, something as simple as a missing caption on a picture can completely change her work day. And while there is technology available to read out loud what appears on the screen, when organizations fail to meet accessibility standards, it can feel like a slap in the face.
"I feel like they're saying that as a blind person I'm not important enough to want my business."
Tabatha says one of the most accessible pieces of technology she has is her phone. But for others, even that isn't enough unless there are captions on the bottom of your video.
Brenda Lemieux is a Teacher of the Deaf at MSDB, and is deaf herself.
"When the information is on the video, that's where I have struggles, if it's just the information on the website that's fine, but like YouTube you have to look for the videos with specific closed captions."
Lemieux says, "I've seen websites and technology really improve over the years, and I think the federal government is strongly encouraging, kind of forcing website accessibility. Whereas before like ten years ago, it wasn't a big issue I was just stuck. So now I see more and more accessibility but it's not complete."
Not complete even for the MSDB website, which even though it's meant for people with hearing or visual impairment, is also receiving complaints.
"I think it's an issue of time and of energy, of knowledge, and honestly respect for consumers," says MSDB Superintendent Donna Sorensen. "Our consumers are deaf, blind, visually impaired, and some deaf-blind, and we want them to have the same kind of access that sighted-hearing people have."
Soliz agrees: "It is important because I want to be able to do everything as independently as possible, and if it's a website that I need or that I want to use and it's not accessible, then I can't be independent doing it."
Thanks to the help of a web company out of Bozeman, the Montana School for the Deaf and Blind will be launching their new website at the end of September. And in the meantime, the Office of Public Instruction is offering up informal technical advice to anyone who needs it.