As Western Montana prepares for below-average temperatures and continuous snowfall, many are wondering when and if significant snowfall will stick around and contribute to snowpack levels. 
ABC FOX Montana reached out to the National Weather Service in Missoula to see what those levels are. 
"November and December we just weren't getting much in the way of snow," National Weather Service Hydrologist Ray Nickless said. "We kind of creeped below what we normally would be with snow on the mountains."
Ray Nickless has worked at NWS Missoula as a hydrologist for 25 years. Many Western Montanans have felt it, but things have been pretty mild this season. 
This year compared to last year, the real big difference has been temperatures," Nickless said. "This year we've been pretty mild, so we're not holding onto snow in the valleys."
Milder temperatures have some folks worried about what that means for agriculture. 
"There's so much agriculture in Montana, and the [industry] really depends on the stream flows for irrigation, so that's why we wanna see snow pack numbers at normal or even above normal," Nickless said. 
Up until December, Western Montana had 30 percent lower snow levels than normal, but Nickless said January's snowstorms was a gift from mother nature.
"First couple weeks of January, the snow just kicked in [and] we got an active weather pattern coming off the Pacific Northwest... Now we're back up close to normal snow numbers," Nickless added. 
The snowpack levels are shown in the photo below.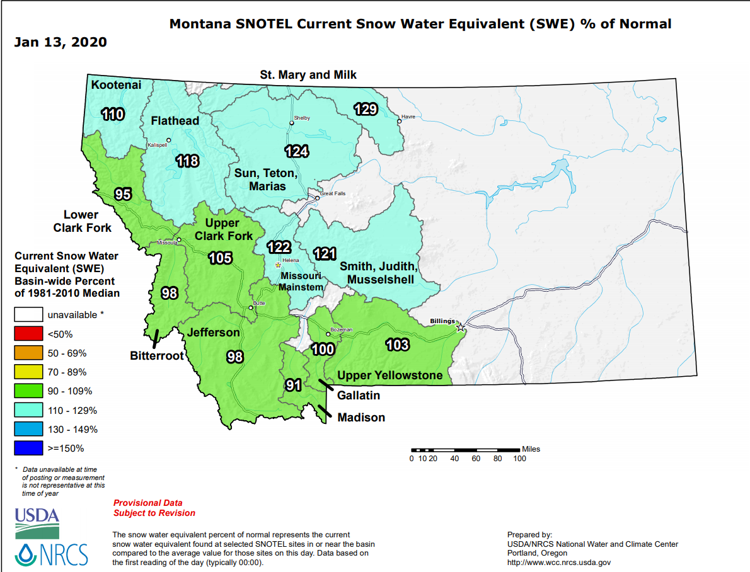 "What really helped Eastern Montana was the early snow [they got.] Back in September we were getting big dumps of snow east of the divide and that really added on to the snow and it's held up there," Nickless said.
He added looking ahead, Western Montana will likely see continuous snow storms and pretty average temperatures. However, that could change as spring is still 48 days away. 
"We got a lot of winter still left to go," Nickless said.