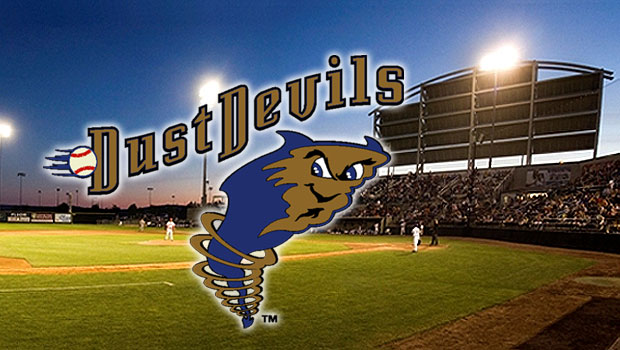 PASCO, WA - The Tri-City Dust Devils grabbed their first lead of this three-game series with the Vancouver Canadians, but the Vancouver offense exploded as they went on to defeat the Dust Devils 10-6 Monday afternoon at Gesa Stadium. It was Tri-City's first day-game loss at Gesa Stadium since 2010.
Tri-City right fielder Dillon Thomas hit a three-run homer in the bottom of the 9th inning. Thomas went 1-for-4 in the game. Third baseman Josh Fuentes and left fielder Drew Weeks each had an RBI. Fuentes went 2-for-3 and scored a pair of runs, and Weeks went 2-for-4 and scored a run.
Starter Blake Shouse (1-5) pitched five innings for Tri-City. Shouse allowed five runs, four earned, on six hits. He allowed a walk and had a strikeout while taking the loss.
Vancouver (25-13) starting pitcher Miguel Castro (4-2) took the win. Castro pitched six innings, giving up two runs on four hits and three walks. He struck out five on the afternoon.
The Dust Devils have wrapped up the first half of the Northwest League season. They will begin the second half of the season with an eight game road trip starting Tuesday. Tri-City will play a five game series against the Eugene Emeralds followed by a three game set against the Everett AquaSox. Tri-City will return to Gesa Stadium on Wednesday, July 30th to start a five game series against the Salem-Keizer Volcanoes.