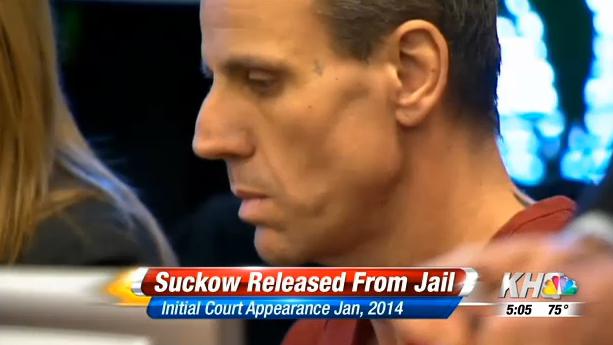 SPOKANE, Wash.- Wednesday afternoon KHQ confirmed with a Spokane County Courthouse clerk that accused murderer Timothy Suckow had been furloughed from jail. Getting furloughed from jail means pretty much what it sounds like: Suckow was let out of jail for a short time.
Suckow is accused of murdering a South Hill businessman, Doug Carlile. Police say Suckow shot Carlile in Carlile's kitchen back in December, 2013. He was arrested in January, and now faces a charge of First-Degree Murder.
KHQ spent several hours Wednesday attempting to confirm why Suckow was let out of jail, but the judge who ruled to release him sealed the case. As of Thursday morning, Suckow is still listed in the Spokane County Jail's inmate roster list, so it appears his furlough is over and done with.
KHQ's Alex Rozier spoke with a Spokane County Sheriff's Deputy about why an inmate would be furloughed, and he told us it can happen for a number of reasons. For example, Suckow may have been assisting detectives in some way with their investigation. Furloughs are also granted for the funeral of an immediate family member.
KHQ will continue to follow this story and bring you any updated information as we get it.