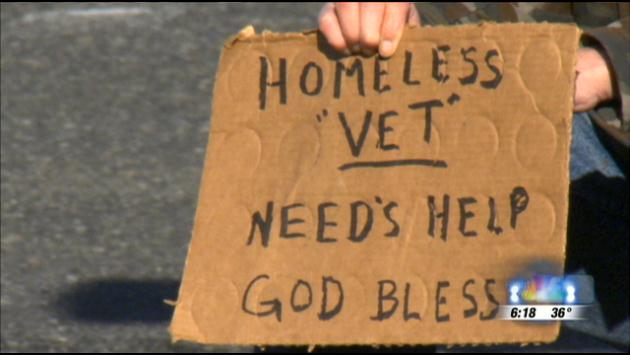 You see panhandlers at intersections throughout the city, but are their stories true?
SPOKANE, Wash. - Everyone has their own story with various circumstances that have led them to street corners where they hold cardboard signs asking for help. The signs all read differently; homeless vet, single mom, hungry. However, panhandlers who talked to KHQ Crime Tracker Kalae Chock admit the money they collect while standing on the street corner does more harm than good.
Kalae met a man who goes by the name Crazy on Division and 3rd, just off Interstate 90. The sign he holds says he's only asking for smiles, but people tell us Crazy does accept money. Crazy says he lives on the street, but says there are so many charities in Spokane that there is no reason to be hungry. He has a long list of charities in Spokane willing to feed most anyone every day.
Crazy and a group of homeless men at Union Gospel Mission admit they asked for money on the corner so they could feed their drug and alcohol addictions. They admit they needed help, but they say the money they collected only enabled them to feed their addictions and stay on the street.
One man told Kalae he pretended to be homeless as a teenager and could collect $200 to $300 everyday. Another told Kalae he learned when he was a boy that he could fill his wallet just by asking people in the neighborhood for money. It's a practice he's been successfully executing off and on for the last 40 years.
Dean Whisler at the Union Gospel Mission says it takes losing everything to get these men and women the help they need. Whisler says "Spokane is a very generous city, but when you see all of the panhandlers out there you would think there is no place to go and that's just not the truth."
Whisler, these panhandlers and even Crazy all agree that Spokane is a generous city and say handing money to people on the corner isn't the way to help. All of them recommend giving to local charities that help feed and house the men and women standing on Spokane street corners.