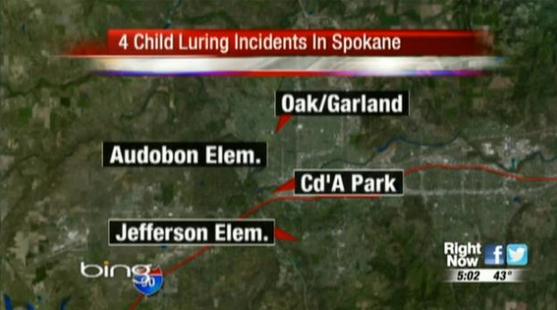 KHQ.COM - The Spokane Police Department is warning the public about recent child luring attempts in Spokane. There have been four attempts in the last week. SPD does not know whether the incidents are related, but the descriptions of the suspects and their vehicles in the reports from authorities do not appear to match.
Here are details of those incidents from SPD:
9-19-13 at 9:00am. Jefferson Elementary. Tall male, 175-180lbs, in his 40's wearing dark hat and red/white windbreakercalled over to a 6 year old student and asked him to come with him. Mom saw the interaction and stepped in.
09-19-13 at 9:30am. Audubon Elementary. Grey pickup pulling a trailer pulled up to a 6th grade student and asked them questions and gave them chocolate. Suspect was described as a black male with a bald head. Two other males were in the vehicle.
9-24-13. Couer D'Alene Park. Male in white RV with tinted windows offered child candy to get into his RV. Suspect described as white male in his 50's, white curly hair, wearing a black sweatshirt and black pants.
9-25-13 at 3:15-3:30pm. Oak St between Liberty and Garland. Light blue 80's full size van has been seen driving slowly in area when kids get out of school. Has been seen on several different dates.
Spokane Police say the recent events are a good reminder to talk to your children about stranger danger. First, they encourage parents to have a frank, honest conversation with their children. They remind parents to teach their kids not to talk to strangers. Parents are also encouraged to tell their children never to accept a ride or candy from someone they don't know. Also, SPD encourages families to have a password. That way, even if the child knows the person picking them up from school, they will only go with the adult if they know the family password. Finally, parents should tell their children to report any type of incident where a stranger approaches them.